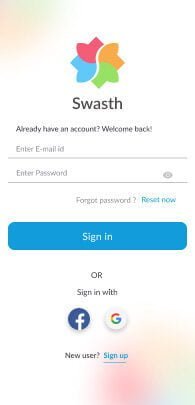 Customer:
A group of founders including an Ayurvedic Doctor and Tech-leaders wanted to create and deploy an app for recording and managing personal health records for the family.
The mobile app had to be very easy to use and easy to retrieve the information as required.
Overview:
This android app was designed and developed by our team after some detailed field research. We finalised the most important health metrics to be tracked, then added life events (such as relocated to new city on a particular date etc.) to enable the user to correlate the data. The idea was to mash up the data and see it on a timeline view.
Problem:
During formative research, many interesting observations gave us a summary of challenges, which then formed the basis of product features. For example, it was observed during formative research that most users simply filed all the reports they received from their hospitals and doctors (like pathology reports and so on).
Additionally, the doctors also asked patients to record the BP, or blood-sugar levels on their own, and typically the users ended up creating a paper record, which was difficult to manage and share.
Solution:
With the mobile app solution, all of the medical records (including related data, such as detailed blood reports, or X rays etc.) could be arranged in a date-wise and time-wise manner.
We designed and developed a web application that provided such intuitive features for users, and the same functionality was also made available on an android app.
Outcome:
An easy-to-use android app that provided many useful features, such as –
Users could could maintain their own digital health records, and get medicine reminders.
Users could share select reports and records with their health care professionals as required.
Doctors could co-relate all the records and take appropriate decisions.