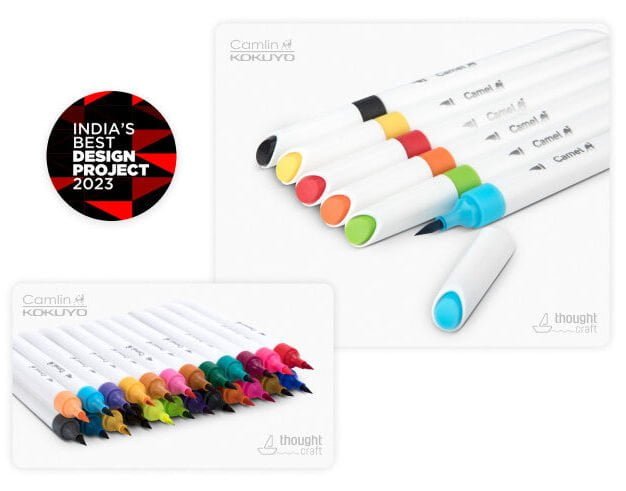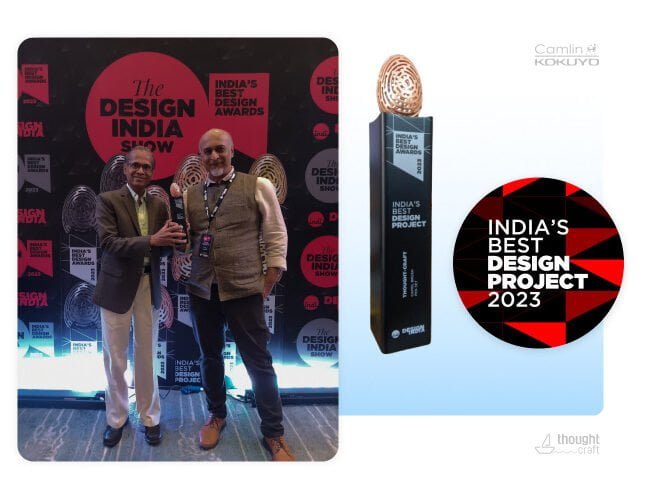 Customer:
Kokuyo Camlin Ltd, an Indo-Japanese stationery firm wanted a re-defining of their aesthetic and design quotient – in keeping with their new marketing directive. We were fortunate to work with the client's visionary and innovative team-members from marketing, engineering and Research, and this collaboration led to an award-winning development.
Overview
One design decision which was taken early-on was that a product that was meant for art should reflect the spirit of the artist and must not look like it was part of office stationery. This meant looking at an existing product with entirely different eyes.
Challenge
Arriving at a formal definition of aesthetics that would appeal to the spirit of the artist was a key challenge. The challenge was made more formidable because it had to be combined with the required safety, engineering and manufacturing norms. A mandatory requirement for safety air-vents in the cap (to mitigate potential choking hazards) meant that the air-vents would either have to be invisible, or blend with the aesthetics, while still satisfying the norms.
Solution:
It is said that the spirit of making a stroke with a brush on paper is the same spirit that is displayed by a swordsman in wielding the sword. This is the reason why so many warriors and swordsmen also practiced calligraphy to perfect their skill.
The inspiration for the form came from a Japanese legend, in which a Samurai's skill in swordsmanship was recognizable merely from the cut he makes, when he uses his sword to cut a flower to gift someone.
This legend inspired us to design the brush-pen as a minimalistic stalk, with a cut that was symbolic of artistic skill.
The practical challenge of integrating air-vents with the overall form was also met quite well, with the help of the superb engineering team of the client, and we could make the air-vents practically invisible to the eye. The minimalistic form with simple cuts also involved a repositioning of mold lines in the tooling – a challenge that was again very ably met by Kokuyo Camlin in the pursuit of excellence. We could experience the truth of the adage 'A good client is what makes a good designer'.
Outcome:
The brush-pen sets were received very well in the market and the demand quickly outstripped the supply.
The design was also appreciated critically, and received the 'India's Best Design Project-2023' award, from the DesignIndia magazine, at the IBDA-2023 – held in Pune on the 7th of Oct 2023.
Our CDO Pankaj Sapkal and Mr. Ravi Gupta (Head of Engineering, Kokuyo Camlin Ltd.) posing with the award at the IBDA-2023.