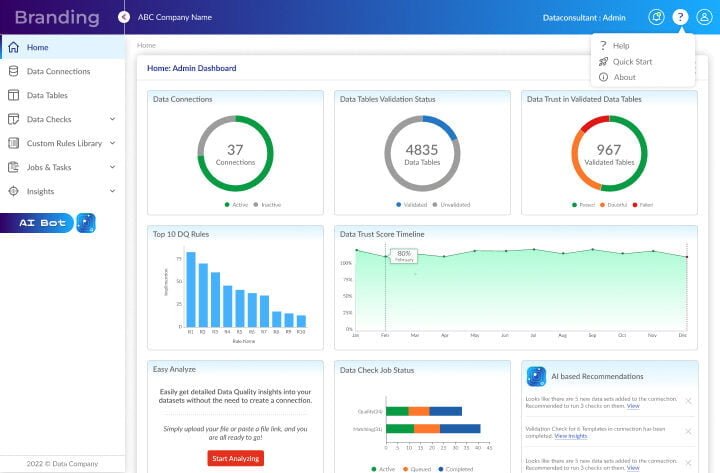 The "Autonomous Data Quality Tool" project is an initiative aimed at enhancing the user experience and functionality of a data quality management tool meant for large enterprises.
Project Name:
Autonomous Data Quality Tool
Summary:
The Autonomous Data Quality Tool is an advanced data quality management solution for large enterprises. It leverages AI to provide an efficient and user-friendly interface for managing data trustability, observability, and data matching across diverse data assets within an organization. The project involved transforming a primitive proof-of-concept UI into a mature, contemporary, and user-friendly application.
Customer:
The project was undertaken for a Silicon Valley startup, specializing in creating Autonomous Data Trust-Scores for enterprise data. Their existing UI was in need of a more intuitive and contemporary design to cater to enterprise users.
Overview:
This tool is designed to assist large and small enterprises in managing and improving the trustworthiness of their data assets, which are typically spread across various applications, databases, and versions. The solution addresses issues related to data trustability, observability, and matching, ultimately enhancing the Data Trust Score.
Challenges:
The existing UI was rudimentary and lacked sophistication.
Inconsistent taxonomy and complex navigation made the tool difficult to use.
The workflow was not intuitive for users.
Data visualization was sub-optimal.
Solution:
A comprehensive redesign of the application – focusing on the UI, information architecture, and interaction patterns.
Improved data visualization to provide better insights.
Development of an AI chatbot to assist novice users in complex validation tasks.
Outcome:
A new UI design with enhanced navigation and user-friendly interaction patterns.
A visually appealing and sophisticated design.
Introduction of a smart AI chatbot catering to business users.
An interactive UI walkthrough for new users.
Integration of micro-animations to enhance usability and user experience.
The "Autonomous Data Quality Tool" project successfully transformed a proof-of-concept product into a sophisticated, user-centric, and visually appealing enterprise data quality management solution. The improved design, better data visualization, and the addition of an AI chatbot have enhanced the tool's usability and appeal to a wider user base.